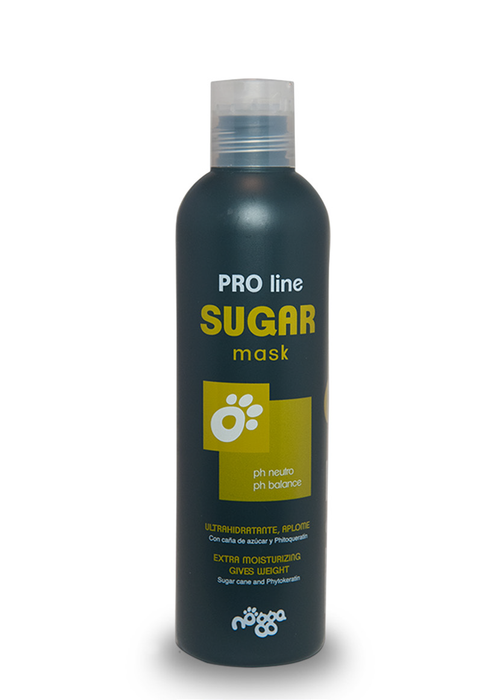 Sugar Mask
Save

Liquid error (snippets/product-badge line 32): Computation results in '-Infinity'

%
CAUTION: moisture bomb! Sugar mask sure has us jumping around in excitement (can't imagine why!) we swear it has nothing to do with the sugar… our tastie… sorry, most hydrating mask made from? You guessed it! Sugar! Formulated specially for our really long haired furry friends.
Sugar mask has a non rinse formula which makes it perfect for those busy pets who "never have time for baths". It also speeds up drying time, amazing! 
Sensational non rinse formula, very popular for busy pets and their slaves.. Euh.. owners

Quick! Drying time is reduced when using Sugar mask .Magic!

Hydration bomb for dry coats, seriously it will blow you away!

Spectacular results on dogs long swishy show quality coats

Perfect for every soft textured cat coat

Enhances the effect of gravity on a long coat (yes the one that keeps us stuck to the ground)

Helps to regenerate damaged, broken hair

Incredible maintenance mask for poodle type coats

Makes brushing easier and eliminates static electricity

Smells amazing - 9.9/10 of our customers agree!

 
Technical details:
Ground-breaking. As a natural humectant, sugar helps to maintain moisture in the skin and coat. A humectant like sugar pulls moisture into the skin and coat by absorbing moisture from the air (clever!). Sugar masks our most hydrating mask and has been designed especially for animals with a show quality coat; like Maltese, Yorkshire terrier and also all cat breeds which must have a soft coat. Due to it's miracle formulation it is also a great choice for maintaining a perfect coat in between shows for breeds like poodles and long haired cat breeds.
What our active ingredients do:
Sugar: of course Sugar shampoo would not be complete without sugar! A natural humectant sugar helps to maintain moisture in the skin and coat. A humectant like sugar pulls moisture into the skin and coat by absorbing moisture from the air (clever!).
Vitamin complex: ensures the skin and coat get their 5 a day. Vitamins A, E, B1, B2, B3, B5, B6, B7, B9 and B12 (ok, we lied, there are more than 5..) but we selected all of them because these are incredibly important vitamins for healthy skins and coats.
Hydrolyzed cereals: no, not the type you eat for breakfast, those are breakfast cereals! We picked maize, soy and wheat. Now, because we know some pets are grain intolerant, we hydrolyzed these grains, this means that we took out the part that causes the allergy (carbohydrate) and only kept the good part (amino acid). Packed full of vitamins, EFAs, protein and minerals, this is the reason why you were always told to eat your cereal as a child!
Quaternized castor oil: derived from the seed of the Ricinus communis plant. It is well tolerated by the skin and used as a carrier oil, skin conditioning agent and is the magic ingredient which makes brushing easier. Awesome!
Oily plant keratin: keratin is a protein and it's super good for your pets hair. It acts as a building block for hair. And of course, we never use animal protein in our products, so we have sourced the finest plant protein specially for your pet.
Cotton extract: yet another source of plant protein and known for being a revolutionary ingredient in human skin care, it was only natural that we should add this ingredient to our Sugar shampoo. Our pets deserve the best!
How to use:
No rocket science needed here! Apply to your hands and rub onto your pet's damp coat in the direction of the hair growth. Dry with an appropriate hair dryer and brush while drying for the best effect.
Avoid contact with eyes.