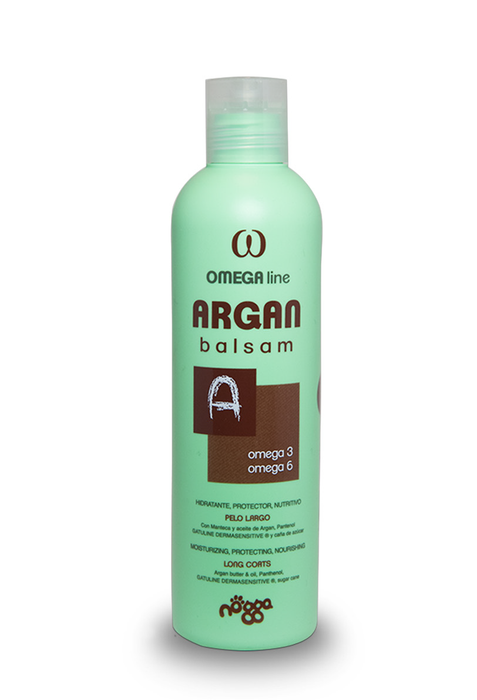 Omega Argan balsam
Save

Liquid error (snippets/product-badge line 32): Computation results in '-Infinity'

%
Argan conditioner for pets with long coats. On a quest for stronger, shinier, softer hair? Golden Argan is praised for its many benefits on skin and hair. Soothing, conditioning, hydrating... get used to glorious hair and healthy skin. 
Eye-opening delivery of omega 3 & 6 fats straight into the skin enabling direct use

Essential building block for healthy skin

Anti-itching properties

Skin soothing and nourishing properties

Love the skin you're in!

Healthy skin = healthy coat

 
Technical details:
Omega Argan balsam has been created specifically for all animals with a long coat. The research about omega's healthy fatty acids for skin is fascinating; in fact, it inspired us to formulate this highly specialized Omega line to deliver these important ingredients—and their benefits—to all skin and coat types. Healthy skin = healthy coat.
Omega fatty acids truly are remarkable ingredients for skin. They serve as the essential building blocks of skin's surface layers, creating a smoother, more even and healthier skin. And if the idea of putting fish oil on skin sounds a bit gross, don't worry—we use plant-derived omega fatty acids. We do not use any animal protein at all in any of our products, that's gross and unethical.
What our active ingredients do:
Argan Nut Butter: Native to Morocco, Argan Nut Butter offers a concentrated, plant-based formula to protect, nourish and moisturize the skin and coat. It is rich in essential fatty acids and Vitamin E and contains only the finest-quality organic, wild-crafted ingredients.
Sugar: A natural humectant sugar helps to maintain moisture in the skin and coat. A humectant like sugar pulls moisture into the skin and coat by absorbing moisture from the air (clever!).
Capparis Spinosa (Caper): also called Flinders Rose is a perennial plant that bears rounded, fleshy leaves and large white to pinkish-white flowers. We use it as it's known for its anti-inflammation, irritation and general anti-itchiness properties.
How to use:
Our balsams (fancy word for conditioner) must be diluted before use. We recommend a dilution of
20% balsam to 80% warm water for pets who are washed frequently (every 1-2 weeks) or 50% balsam and 50% water for pets who are washed less frequently.
We also recommend that you use a fancy (plant) spray bottle and that you brush the conditioner in. for your convenience you can also buy the fancy bottle directly from us, right here.