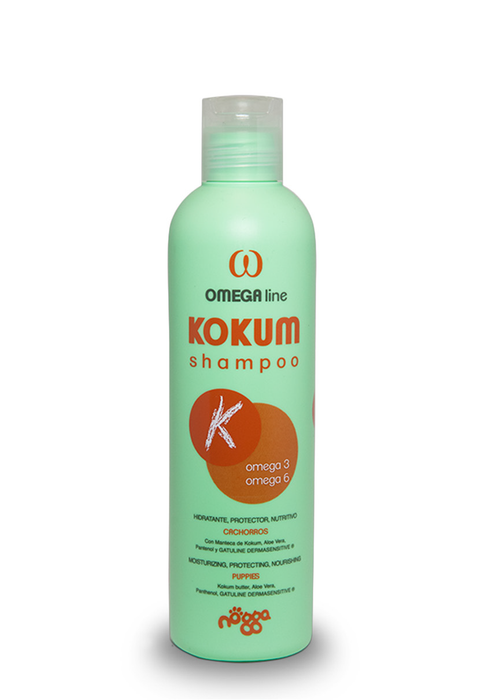 Omega Kokum shampoo
Save

Liquid error (snippets/product-badge line 32): Computation results in '-Infinity'

%
Puppy and kitten shampoo. Specially formulated for the youngest skins, Kokum shampoo provides essential support to the skin and coat during the change to adulthood. 
Eye-opening delivery of omega 3 & 6 fats straight into the skin enabling direct use

Essential building block for healthy skin

Anti-itching properties

Skin soothing and nourishing properties

Love the skin you're in!

Healthy skin = healthy coat
Technical details:
We know baby's delicate skin and coats need special care during bath time. That's why our Kokum shampoo is specially designed to gently cleanse the baby's fine coat and delicate skin. Kokum balsam nourishes gently and rinses easily, leaving your baby's hair soft, shiny, manageable and clean while maintaining a gentle smell for the youngest of noses.
The research about omega's healthy fatty acids for skin is fascinating; in fact, it inspired us to formulate this highly specialized Omega line to deliver these important ingredients—and their benefits—to all skin and coat types. Healthy skin = healthy coat.
Omega fatty acids truly are remarkable ingredients for skin. They serve as the essential building blocks of skin's surface layers, creating a smoother, more even and healthier skin. And if the idea of putting fish oil on skin sounds a bit gross, don't worry—we use plant-derived omega fatty acids. We do not use any animal protein at all in any of our products, that's gross and unethical.
What our active ingredients do:
Kokum Butter: Kokum butter is obtained from the fruit of the kokum tree (botanical name: Garcinia indica), which grows in the western parts of India (Maharashtra and Goa). Kokum Butter is ultra-rich in essential fatty acids, known to assist in cell regeneration and supporting skin elasticity. Nourishes and hydrates your pet's young skin.
Olive seed butter: it has all the properties of olive oil and it penetrates the skin with ease ensuring optimal hydration levels for your pet's skin. Olive butter is also known for its anti-itching properties, excellent news for pets with sensitive skin.
Capparis Spinosa (Caper): also called Flinders Rose is a perennial plant that bears rounded, fleshy leaves and large white to pinkish-white flowers. We use it as it's known for its anti-inflammation, irritation and general anti-itchiness properties.
How to use:
Like any other shampoo you're used to. Squirt a generous amount into your hands and apply to your pet, rub it into the coat in the direction the coat lies. For really furry pets, this shampoo can also be diluted 1:4 with warm water. Rinse and repeat if desired.
Always combine your favourite Nogga shampoo with one of our balsams, we recommend Kokum balsam. (Fancy word for conditioner).
Avoid contact with eyes.