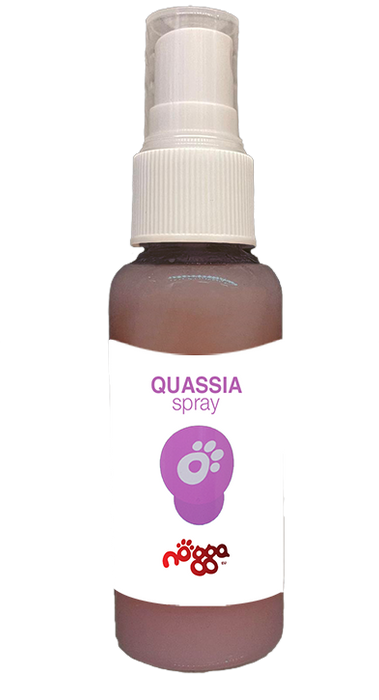 Quassia Spray2Go
Save

Liquid error (snippets/product-badge line 32): Computation results in '-Infinity'

%
A natural alternative. Nature is pleased with simplicity and nature is no dummy! If you're looking for an alternative to nasty chemical products, then look no further. Our amazing Quassia spray is revolutionary, changing the way we use these products on our pets. GONE are the chemicals and IN are natural ingredients known for their anti-parasitic uses. 
Natural

Safe and efficient

Can be used on all mammals

Including puppies, kittens and baby bunnies

 
Technical details:
Natural, efficient and above all safe for all mammals including humans. Can be used on puppies, kittens, baby bunnies and of course all sorts of adult pets. Biologically degradable, Quassia spray is truly one of a kind!
What our active ingredients do:
Quassia Amara: introducing our main active ingredient that is well known for its anti-parasitic properties. Quassia Amara is a tree first discovered in Suriname. Quassia Amara is used as an insecticide, in traditional medicine and as an additive in the food industry. In Quassia spray we use extracts of Quassia wood or bark which act as a natural insecticide.
Essential citronella oil: Citronella oil is obtained from the leaves and stems of different species of Cymbopogon (lemongrass). Citronella is also a plant-based insect repellent and has been registered for this use in the United States since 1948. Citronella oil is considered as a biopesticide with a non-toxic mode of action. We have incorporated it as it is also known to repel sand flies, commonly found in southern Europe.
How to use:
Shake well before use. Spray at a distance of 20cm onto damp or dry coats. Against mosquitos /sand flies use daily. Against fleas and ticks use 2x per week and use extra when walking in the woods or places parasites are known to be especially active.