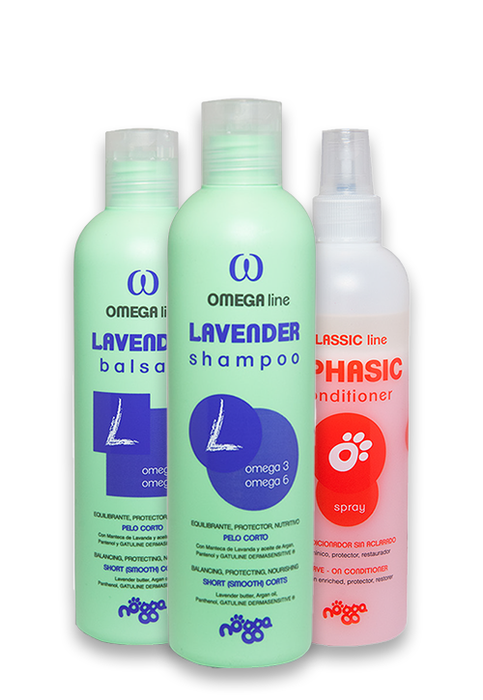 DermaSens Set - Short
Save

Liquid error (snippets/product-badge line 32): Computation results in '-Infinity'

%
This set has been specially created for all pets with a smooth coat who have a tendency to have a dry or itchy skin. 
DermaSens Set - Short; the revolution
Lavender shampoo has been carefully formulated for pets with a sensitive skin. Packed with omega fats and the revolutionary ingredient Capparis Spinosa, Lavender shampoo ensures that skins with a tendency to be dry and itchy get the care they need. Lavender balsam moisturizes and nourishes the skin with essential omega 3 and 6 fats. Our legendary leave-in conditioner Biphasic spray is the perfect finish and, in addition to sealing the hair shaft it also provides healthy shine and sustained hydration! The fantastic scent is for free!
When to use the DermaSens Set - Short
Use this set every 3-6 weeks to maintain a healthy skin and coat once your pet has finished their first shed from baby fur to adult fur. 
1. Get your pet wet using lukewarm water, approx. 37°C
2. We recommend using the shampoos pure, for extra furry pets you can dilute the shampoo with water to maximum 1:4. 
3. Thoroughly rinse the shampoo
4. Mix the balsam with warm water, this is important to ensure the balsam gets to the skin. Mix 20 gr of balsam to every 100 ml of water. Apply this mix to the coat. 
5. Brush in using our rubber brush. This ensures that the balsam is spread evenly over the skin and coat making a world of difference to the end result! 
6. Rinse thoroughly. 
7. Remove excess water with our microfibre towel
7. Spray a fine layer of Biphasic spray over the coat to protect it from being damaged. 
8. Dry your pet thoroughly using an appropriate hair dryer.
The above instructions will also be provided with your products.  
Silver shampoo

 

- mix with the Lavender shampoo 50:50 to enhance the colour of white, black, chocolate and silver coloured pets. Silver shampoo also provides UV protection to ensure optimal protection.
Brushing short coated pets is very important, the correct brush combination is just as important. We recommend the following: 
Natural bristle brush - removes dirt and provides shine to the coat
Rubber brush - removes loose hair and stimulates the skin 
Before brushing, always apply a layer of Biphasic spray to the coat to protect it against being damaged. 
Drying your pet after their bath is extremely important. We recommend to use:
Africanis, Alpha blue blood bulldog, American foxhound, Ariégeois, Argentinian dog, Basenji, Basset Artésien Normand, Basset Bleu de Gascogne, Basset hound, Beagle, Beagle harrier, Bavarian Mountain Tracking Dog, Black and tan coonhound, Blue lacy, Border Terrier, Boston Terrier, Boxer, Bracco italiano, Braque d'Auvergne, Braque de Toulouse et de l'Ariège, Braque du Bourbonnais, Braque Saint-Germain, Broholmer, Bullmastiff, Bull Terrier, Ca de Bestiar, Catahoula leopard dog, Chien d'Artois, Short haired Chihuahua, Chinese chongqing dog, Chippiparai, Cirneco dell'Etna, Combai, Dalmatian, Dansk-Svensk Gårdshund, Dobermann, German Brak, German dog, German Pinscher, German Shorthaired Pointer (Shorthair), Dunker, English bulldog, English toy terrier, Pharaoh Hound, Fila Brasileiro, Finnish Stövare, Foxhound, Fox Terrier, Français blanc et noir, Français blanc et orange, Français tricolore, French bulldog, Gotlandsstövare, Grand anglo-français blanc et noir, Grand Anglo-Français Blanc et Orange, Grand Anglo-Français Tricolore, Grand Bleu de Gascogne, Grand and Petit Gascon-Saintongeois, Greyhound, Great Swiss Mountain Dog, Haldenstøvare, Hamiltonstövare, Hanoverian Schweisshund, Harrier, Hygenhund, Jack Russell Terrier, Labrador retriever, Manchester Terrier, Mastiff, Mastino napoletano, Pug, Ogar polski, Parson Russell terrier, Perro de Presa Canario, Petit Bleu de Gascogne, Dachshund, Whippet, Jack Russell
DermaSens Set - Short S: 250 ml Lavender shampoo, 250 ml Lavender balsam, 250 ml Biphasic spray
DermaSens Set - Short L: 2x 250 ml Lavender shampoo, 500 ml Lavender balsam, 1000 ml Biphasic spray