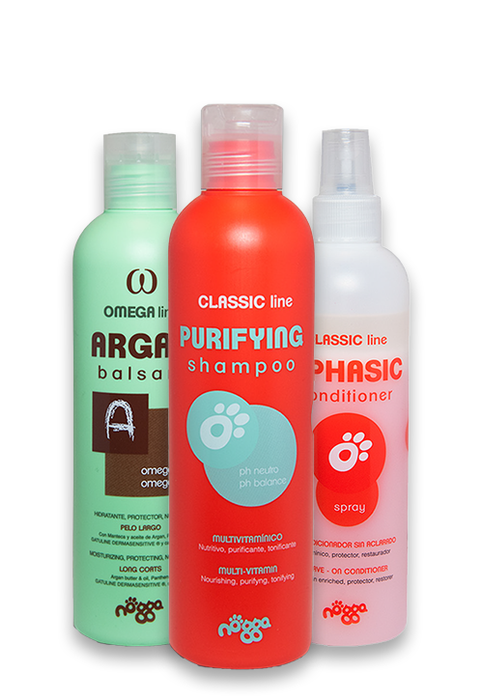 DermaCare Set - Long
Save

Liquid error (snippets/product-badge line 32): Computation results in '-Infinity'

%
This set has been specially created for all pets with a long coat. This set provides optimum hydration for pets with a maximum coat length of 5 cms.
DermaCare Set - Long; the revolution
Purifying shampoo is packed with vitamins, minerals and proteins that provide the skin with everything it needs to generate new, healthy coat. Argan balsam moisturizes and nourishes the skin with essential omega 3 and 6 fats. Our legendary leave-in conditioner Biphasic spray is the perfect finish and, in addition to sealing the hair shaft it also provides healthy shine and sustained hydration! The fantastic scent is for free!
When to use the DermaCare Set - Long
Use this set every 3-6 weeks to maintain a healthy skin and coat once your pet has finished their first shed from baby fur to adult fur. 
1. Get your pet wet using lukewarm water, approx. 37°C
2. We recommend using the shampoos pure, for extra furry pets you can dilute the shampoo with water to maximum 1:4. 
3. Thoroughly rinse the shampoo
4. Mix the balsam with warm water, this is important to ensure the balsam gets to the skin. Mix 20 gr of balsam to every 100 ml of water. Apply this mix to the coat. 
5. Brush in using our flexible slicker brush. This ensures that the balsam is spread evenly over the skin and coat making a world of difference to the end result! 
6. Rinse thoroughly. 
7. Remove excess water with our microfibre towel
7. Spray a fine layer of Biphasic spray over the coat to protect it from being damaged. 
8. Dry your pet thoroughly using an appropriate hair dryer.
The above instructions will also be provided with your products.  
Brushing double coated pets is very important, the correct brush combination is just as important. We recommend the following: 
Flexible slicker

 

- opens the coat and helps to brush out knots and loose hair.
Steel comb

 

- ensures that all loose hair and knots are properly removed. 
Before brushing, always apply a layer of Biphasic spray to the coat to protect it against being damaged. 
Drying your pet after their bath is extremely important. We recommend to use:
Afghan Hound, American Cocker Spaniel, American Water Spaniel, Barbet, Bearded collie, Bearded collie, Bichon Frisé, Biewer Terrier, Big poodle, Bohemian terrier, Bolognese, Borzoi, Briard, Briard, Butterfly dog, Cavalier, Cavalier King Charles Spaniel, Clumber Spaniel, Cocker, Coton de Tulear, Dachshund, Drentsche Partridge Dog, English Cocker Spaniel, English Springer Spaniel, English setter, Epagneul de Pont-Audemer, Epagneul français, Epagneul nain continental, Epagneul picard, Epagnuel bleu de Picardie, Field Spaniel, German Pointing Dog (long-haired), Gordon Setter, Gos d'Atura, Great Münsterländer, Havanese, Irish Red and White Setter, Irish Water Spaniel, Irish setter, Irish soft-coated wheaten terrier, Japanese Spaniel, Kerry Blue Terrier, King Charles Spaniel, King Poodle, Liondog, Maltese, Miniature Poodle, Moth dog, Old English Sheepdog, Old English Sheepdog, Papillon, Podenco Ibicenco, Polski owczarek nizinny, Polski owczarek nizinny, Poodle, Powder puff, Powderpuff, Pumi, Pyrenean Sheepdog, Pyrenean Sheepdog, Quail dog, Saluki, Schapendoes, Schapendoes, Shih tzu, Silky Terrier, Skye Terrier, South Russian Ovcharka, Spaniel, Tibetan Terrier, Toy poodle, Welsh Springer Spaniel, York, Yorkshire Terrier
DermaCare Set - Long S: 250 ml Purifying shampoo, 250 ml Argan balsam, 250 ml Biphasic spray
DermaCare Set - Long L: 1000 ml Purifying shampoo, 500 ml Argan balsam, 1000 ml Biphasic spray